Crown Vantage Mill 2 Entry
Site Home / Crown Vantage / Crown Vantage Mill 2
Pages loading too slowly? Click Here to switch to the low-bandwidth version.
---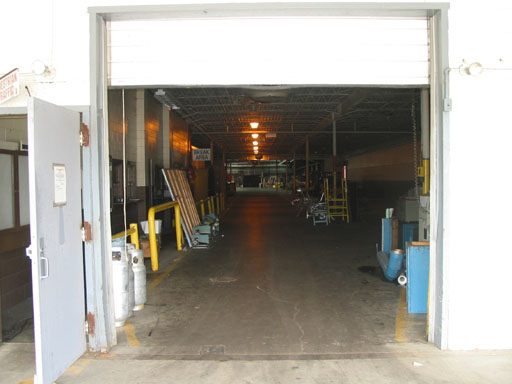 We had driven by this loading dock and looked inside the open bay door many times when the mill was in business, but this time, we get to go inside!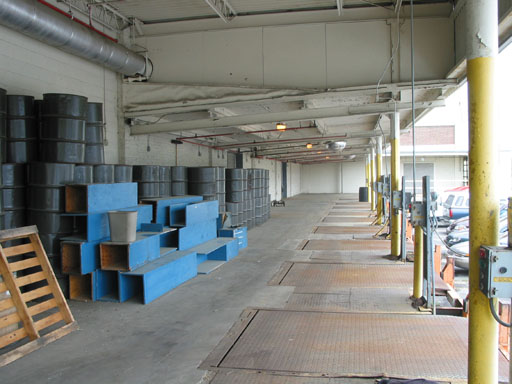 This is the outside portion of the loading dock through which we entered...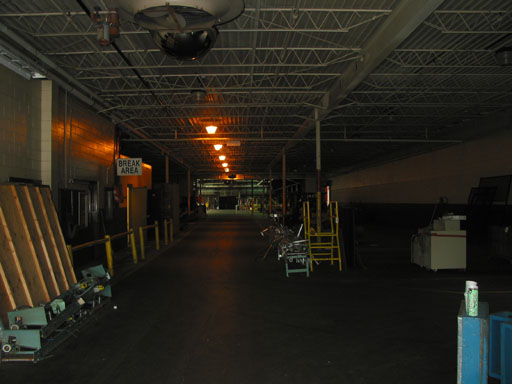 ...and the inside portion.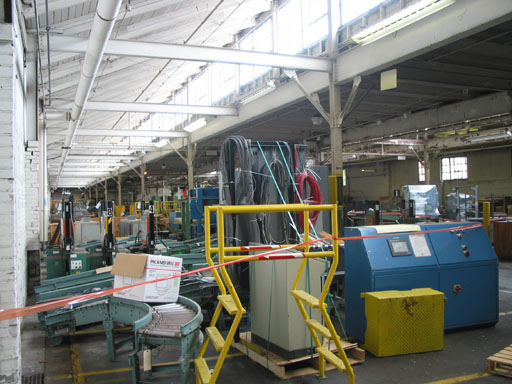 Moving a bit farther into the mill, we find several rooms full of equipment that looks like it had been moved there for the auction sale. Or perhaps it had already been purchased and the purchasers had moved it into one place for convenient pick-up.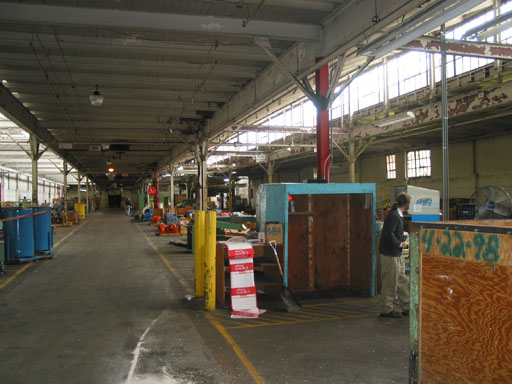 And another room full of auction sale equipment.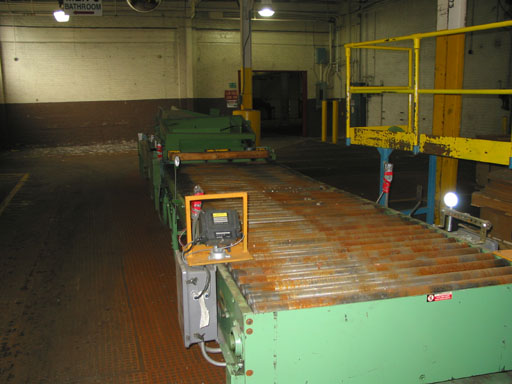 This looks like some sort of conveyor like the ones at Circuit City, where they slide your product down from the warehouse section to the pickup counter, only heavier-duty.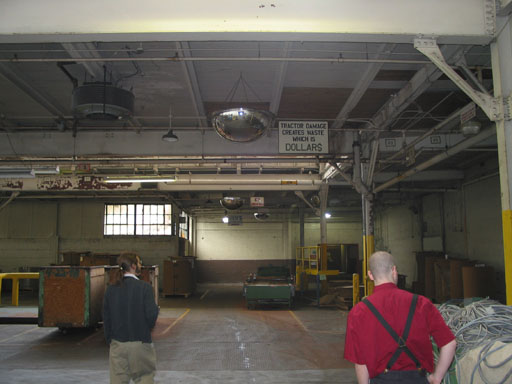 Walking further into the mill, we find a sign telling us that "Tractor Damage Creates Waste Which is DOLLAR$".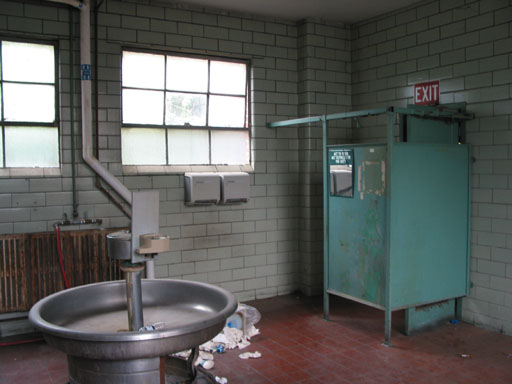 It looks like we located the Men's Room...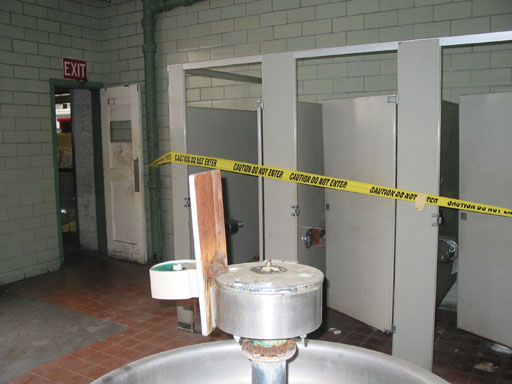 It looks like they were pretty serious about people not using the toilets, which was probably a good idea, since the water was turned off to the building.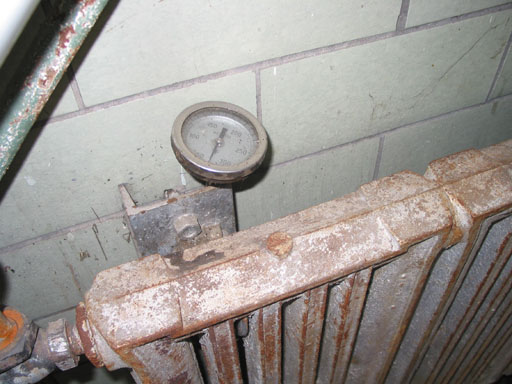 Not too many heating radiators that I've seen have pressure gages attached to them; this one obviously being an exception.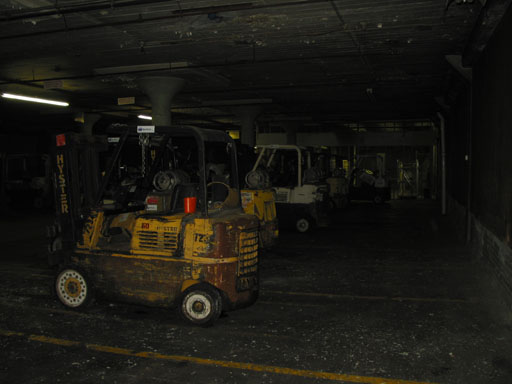 All of the mill's forklifts were lined up here for the sale.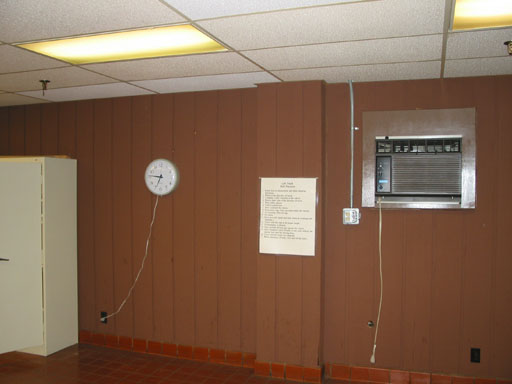 I guess we see who gets all the respect around this mill, with air conditioners in virtually every office...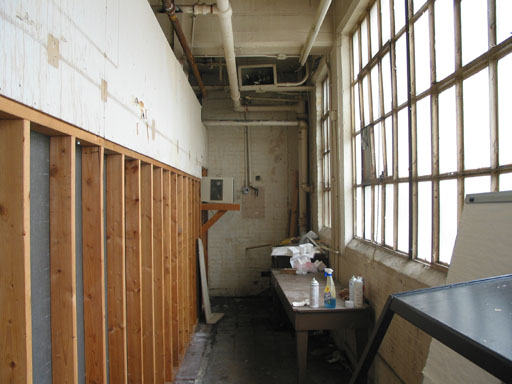 ...those offices being cooled at the expense of everyone else, since most of the air conditioners simply vent the heat out into the factory floor!

On the way upstairs to find one of the machine rooms, one encounters this ramp.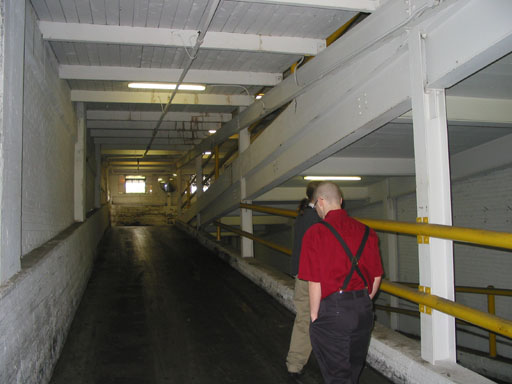 Presumably, finished rolls were brought down this ramp by forklift from the machine room to the warehouse or shipping area.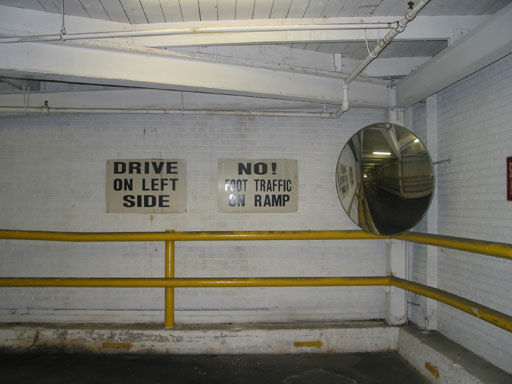 I guess they don't want people getting run over by forklifts loaded with paper rolls.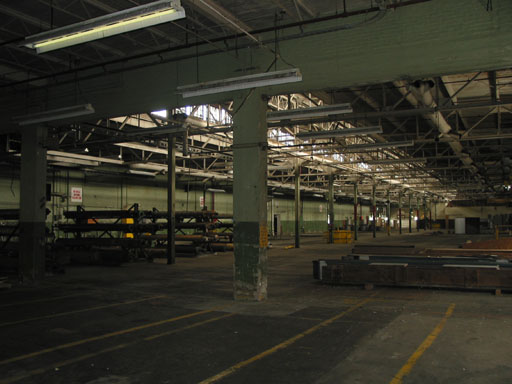 Here is what appears to be another small storage area at the top of the ramp.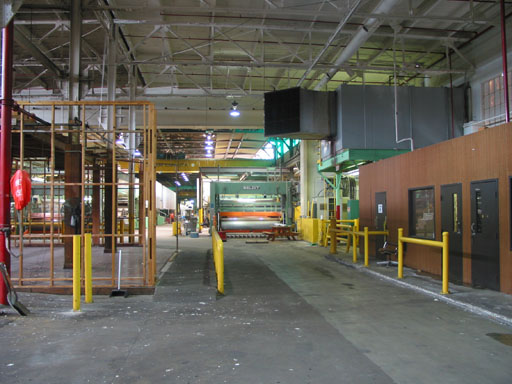 Straight ahead is the Bagley paper machine, with the Beloit machine to its left. To our right are some offices which contained some interesting documents pertaining to the operation of the various paper machines in the mill.
You have reached the end of this section of the Mill 2 tour. Please select from one of the following choices: