Mill D - Paper Machine Room
---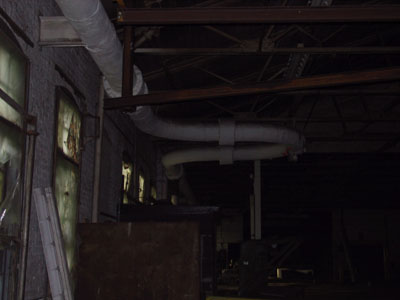 This big white pipe with the bend in it heads back towards the machine room, and pipes are always fun, so let's follow it!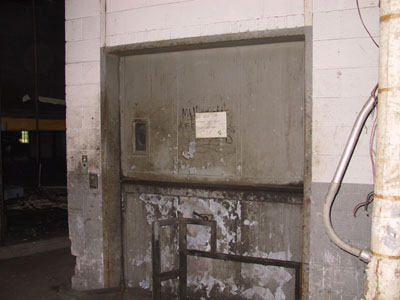 On the way back to the machine room, one finds the upstairs portion of the freight elevator we saw in the basement. It has a sign on it saying something about it not being safe to ride, or something of that nature.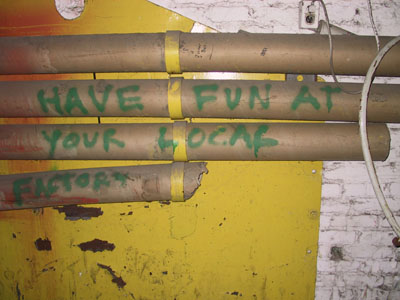 On a wall on the way to the machine room, somebody has decided to advocate doing what we were doing at the time.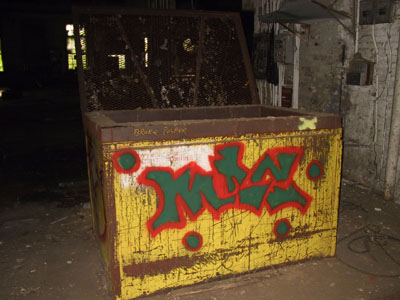 This large bin (which leads to a big tank under the floor) is labeled 'Broke Pulper'. Rather than indicating that it is a pulper which is broken, 'Broke' is a term for paper that is in some way defective (there was a problem on the machine during manufacturing, somethng happened to the roll after it was made, the roll is of the wrong grade, etc...). Such paper would be loaded into the Broke Pulper to be turned back into pulp and re-made into new paper.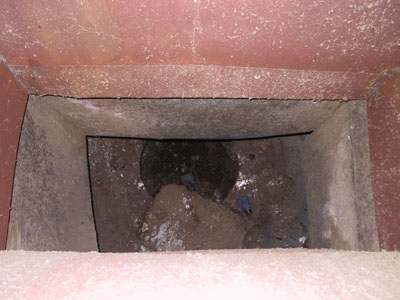 A look inside the Broke Pulper.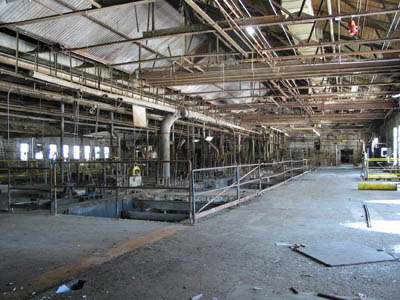 And here it is; the machine room. The Mill D machine room contains two large production lines and one small line; in the foreground is one of the large lines.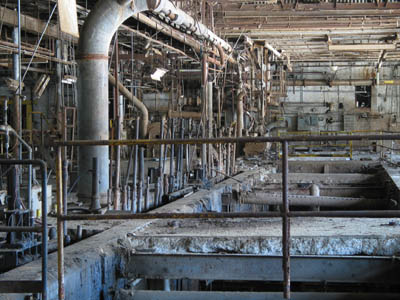 A closer look down the first production line. Look at all those pipes and conduits...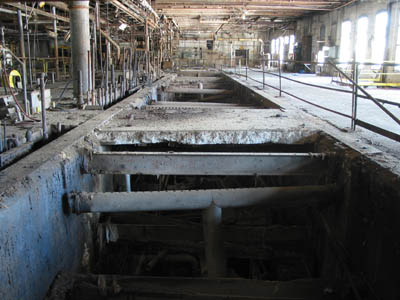 Alas, there's no paper machine in there now...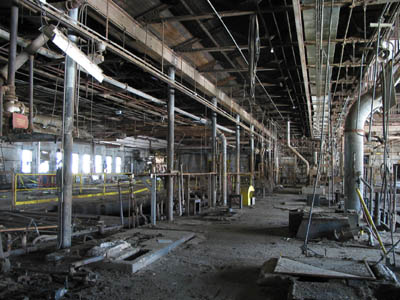 A look down the factory floor between the two large production lines.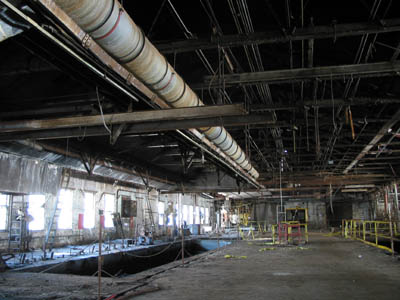 That's the small line on the left; the second large line on the right. And a large steam duct overhead.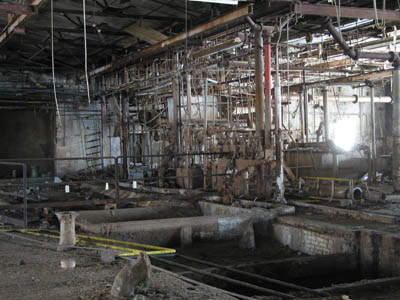 There's the remainder of some apparatus near the wet end of the second paper machine. (I believe that Mill D's deculator is directly overhead from this apparatus.)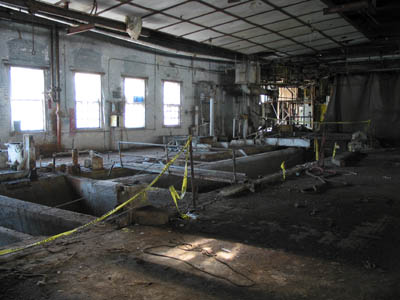 The small production line is also pretty ramshackled.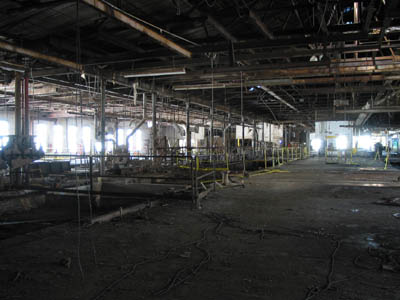 Looking the other direction down the machine room...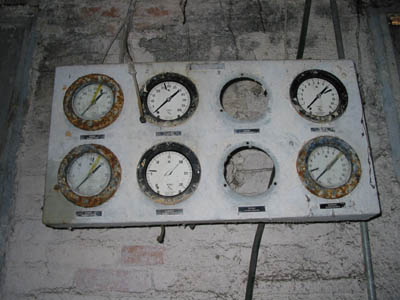 Some gages for the primary, secondary, and tertiary Celleco cleaners.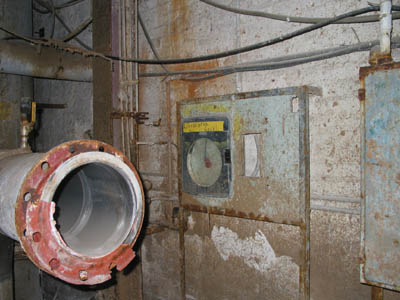 There's a chart-recorder keeping track of the "deculator level"...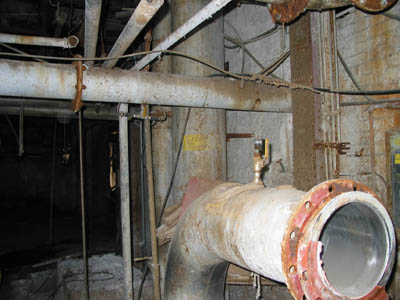 ...and a pipe coming down from the deculator itself.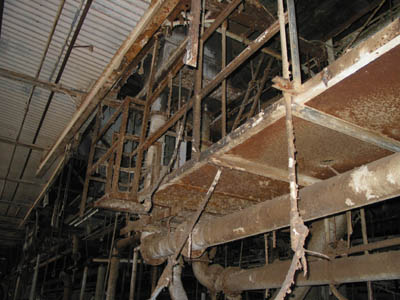 The deculator must be up there somewhere; it's about two stories up in a corrugated metal room and there's really no safe way to get up there, so this is the only photo you're going to get.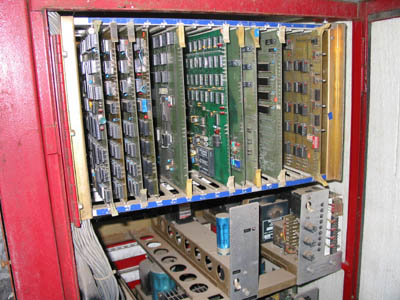 Check out this ancient computer off to the side of the machine room which presumably controlled one or more of the Mill D paper machines...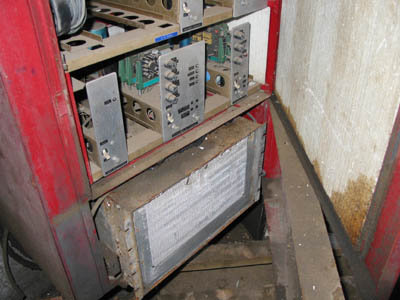 It even has its own built-in air conditioner!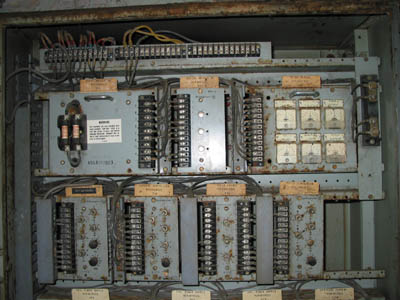 It looks like we've got some analog control equipment, too.
View More Photos From this Area
or:
Proceed to the Pulping/Pulp Preparation Area