Crown Vantage Powerhouse - Boiler Room
Site Home / Crown Vantage / Crown Vantage Powerhouse
Pages loading too slowly? Click Here to switch to the low-bandwidth version.
---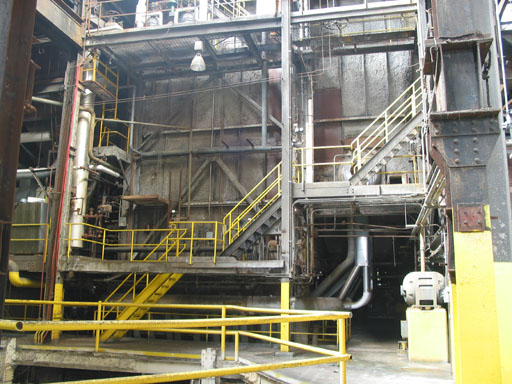 The Crown Vantage Powerhouse has two large boilers and one small boiler; this is one of the two large ones. The boilers were fired by coal when the mill was built, but they were later converted to natural gas.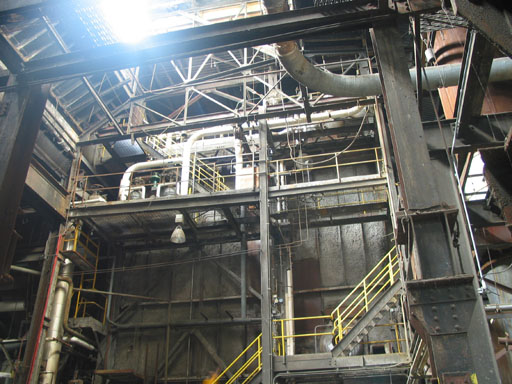 And the upper portion of this boiler.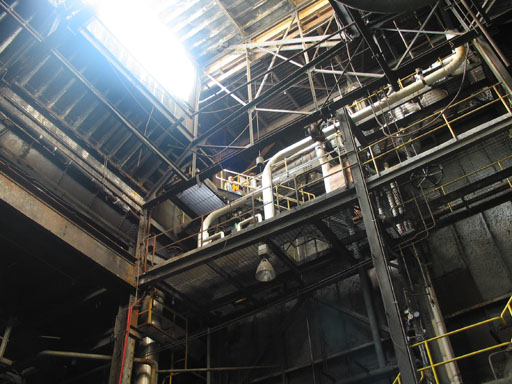 And an explorer perched in its upper reaches.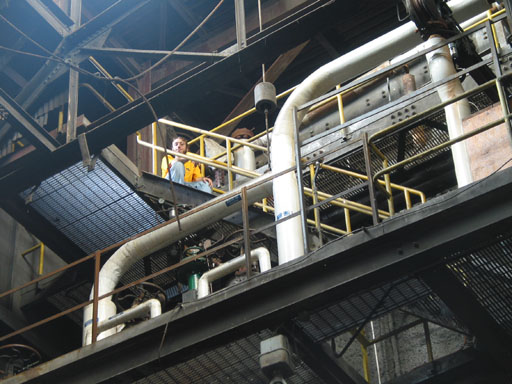 ...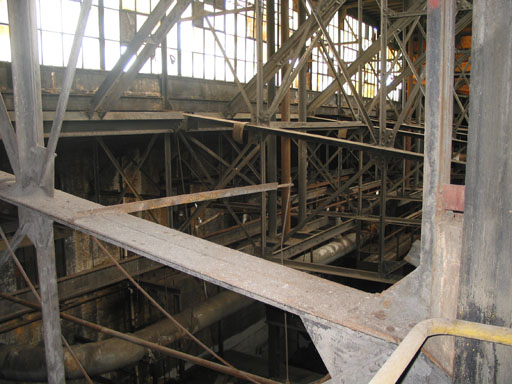 Here's a look across the upper portion of the boiler room from the top of the large boiler.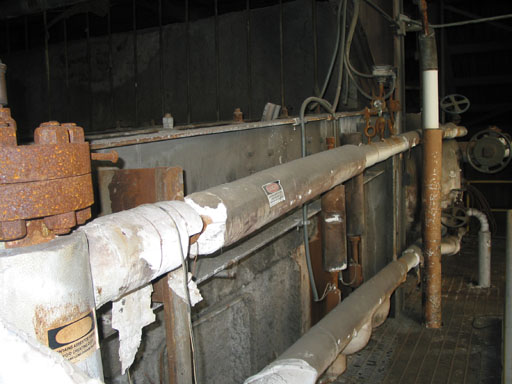 And, the top of the large boiler. We were told by some former power plant employees that by the time the steam reaches this point, it is so dry and so superheated that when the pipes start leaking, you can't see the steam escaping at all. In order to find the leak, you have to put a rag at the end of a long stick and brush it by the areas of the pipes that you think might be leaking. When the rag bursts into flames, you've found the leak.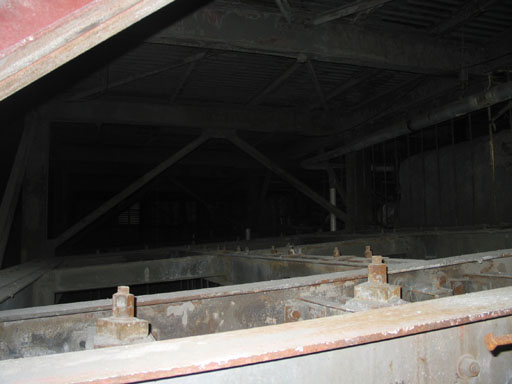 And now, the actual top of the boiler.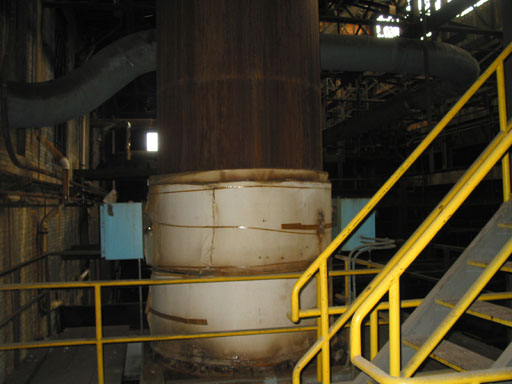 Here's one of the smokestacks heading up to the outside.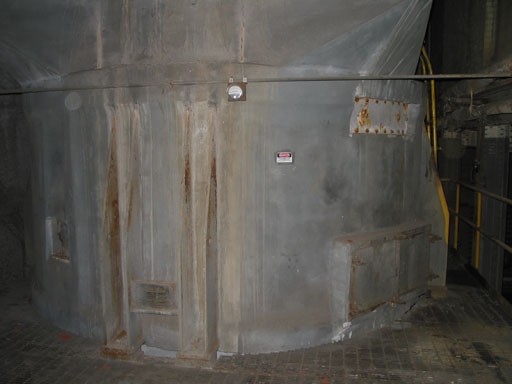 And some other large thing having to do with the boiler exhaust. Perhaps the superheater is inside of there or something.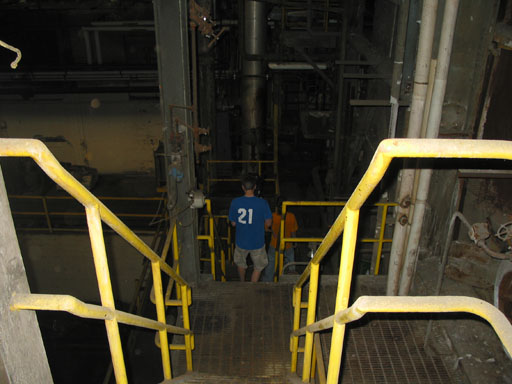 Climbing back down the boiler scaffolding...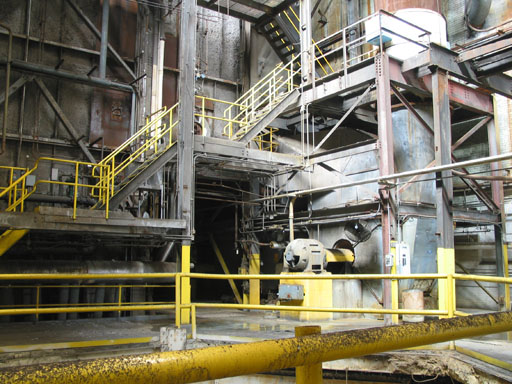 Back down on the main level, we see what appears to be an induced draft blower, which sucks the combustion gases out of the boiler and blows them into the smokestack.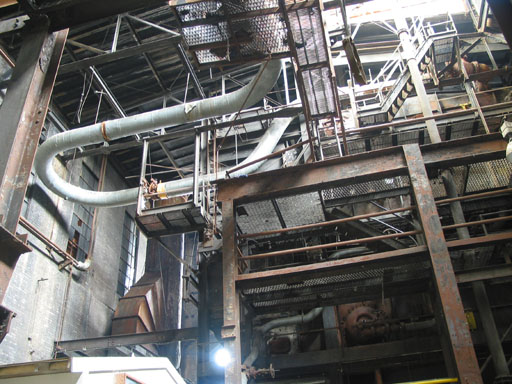 And here we have the ubiquitous power plant curved steam pipe up near the ceiling.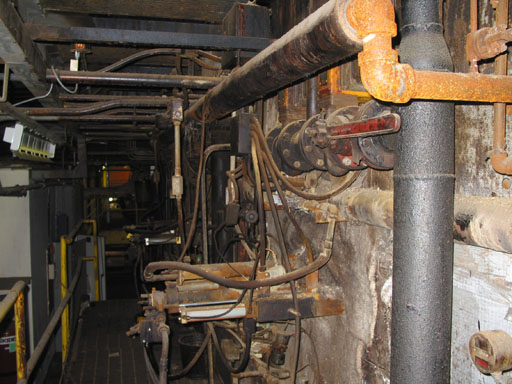 Here are some pipes and equipment at the firing end of one of the large boilers.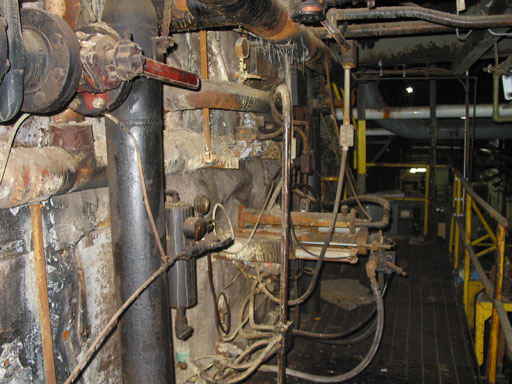 And some more stuff right next to that.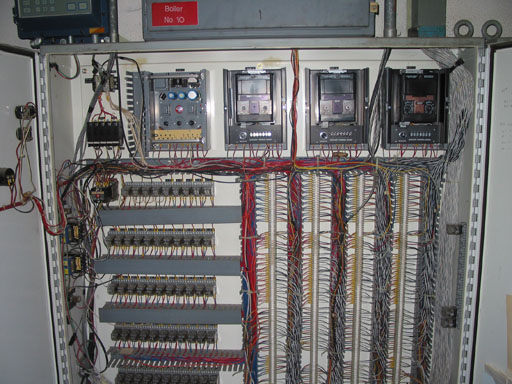 And here we have some control equipment for "Boiler No. 10." Now, why this is called the number 10 boiler, when there are only three boilers in the building, is a bit beyond me.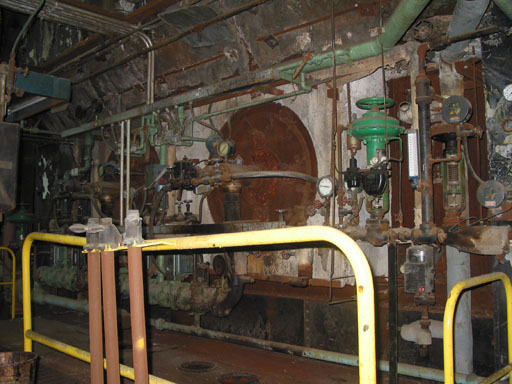 And this, I believe, is the very bottom of firing side of the boiler, down in the basement.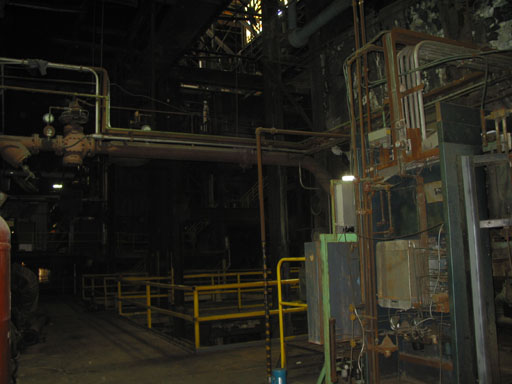 Back on the main floor, here we have a look across the entire boiler room, with some of the control equipment for the smaller heating boiler in the foreground.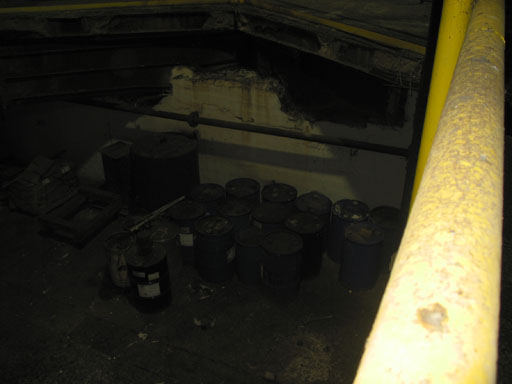 This large pit with a safety railing around it goes all the way down to the basement, where a number of barrels stand. I wonder if there used to be more equpment (such as another boiler) where this pit now is, or whether it was always vacant - perhaps as room for future expansion if more power was needed in the future.
You have reached the end of the Powerhouse's Boiler Room section. Please select from one of the following choices: